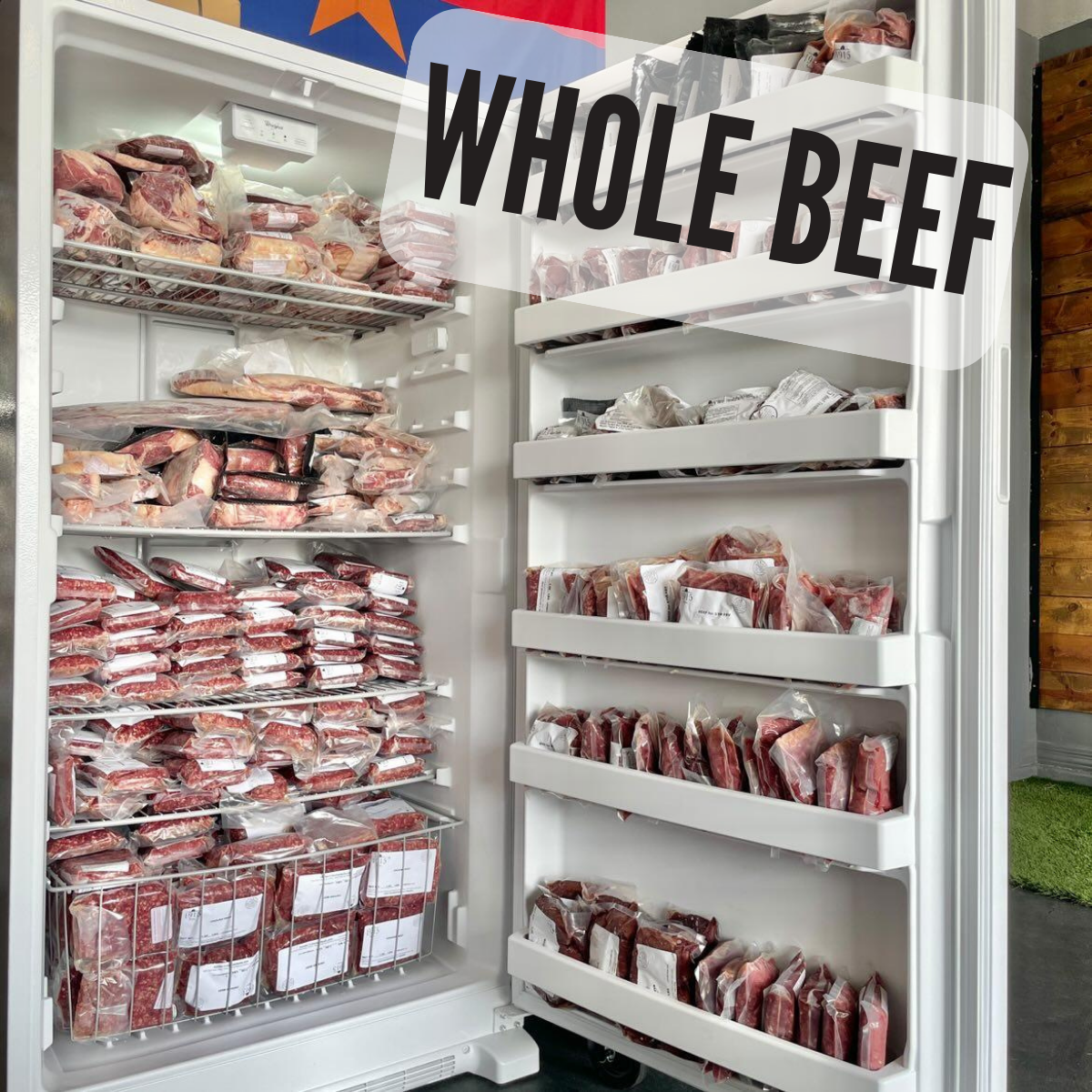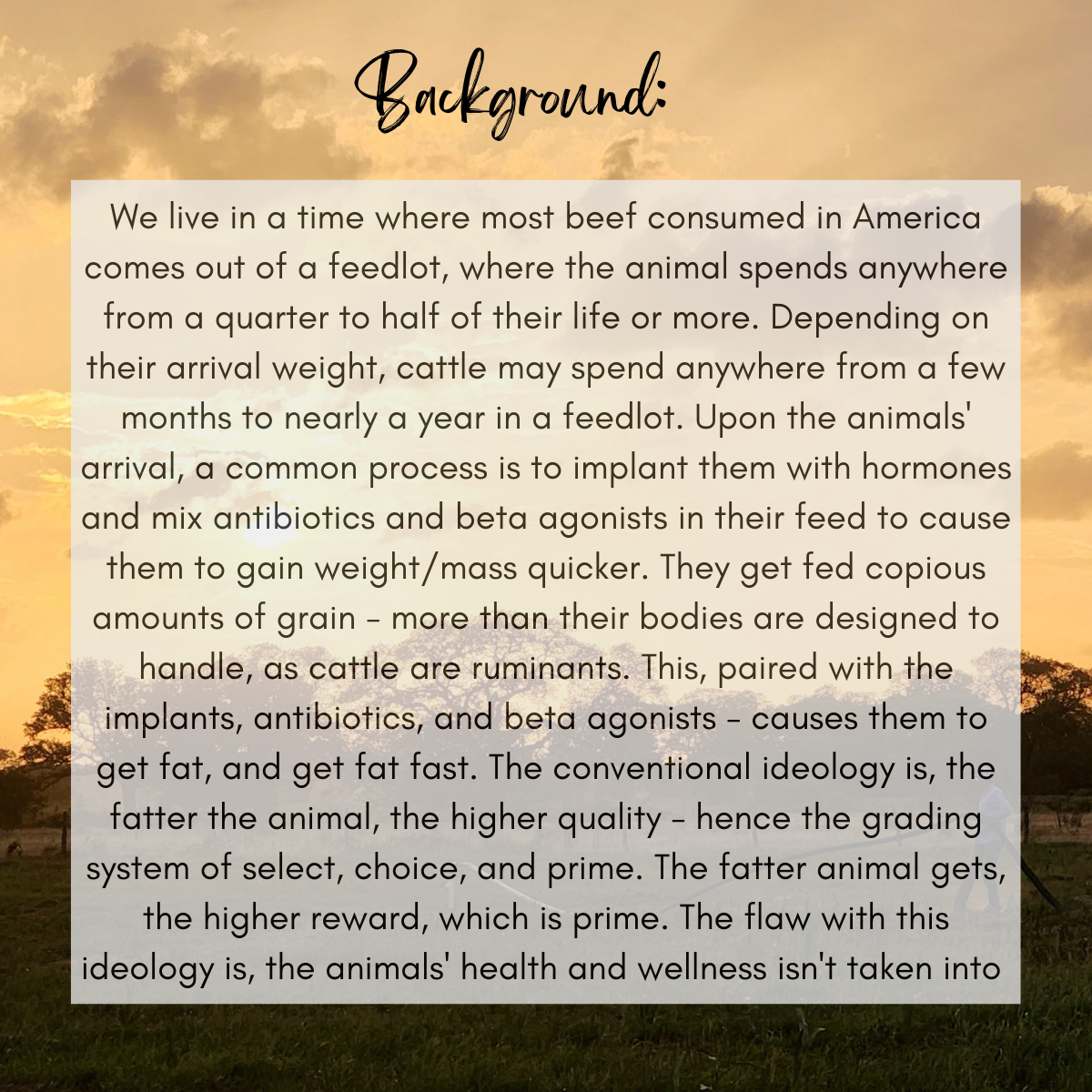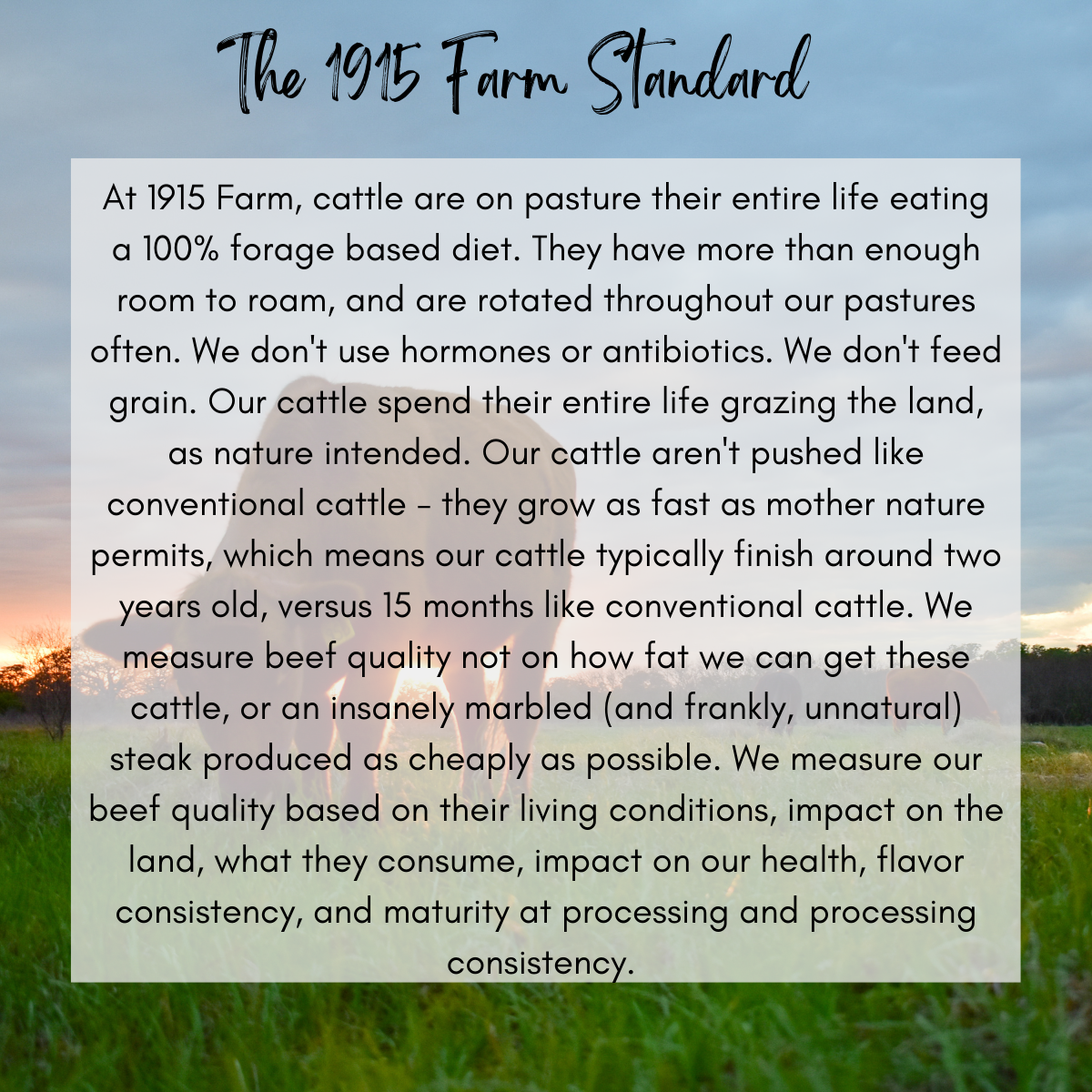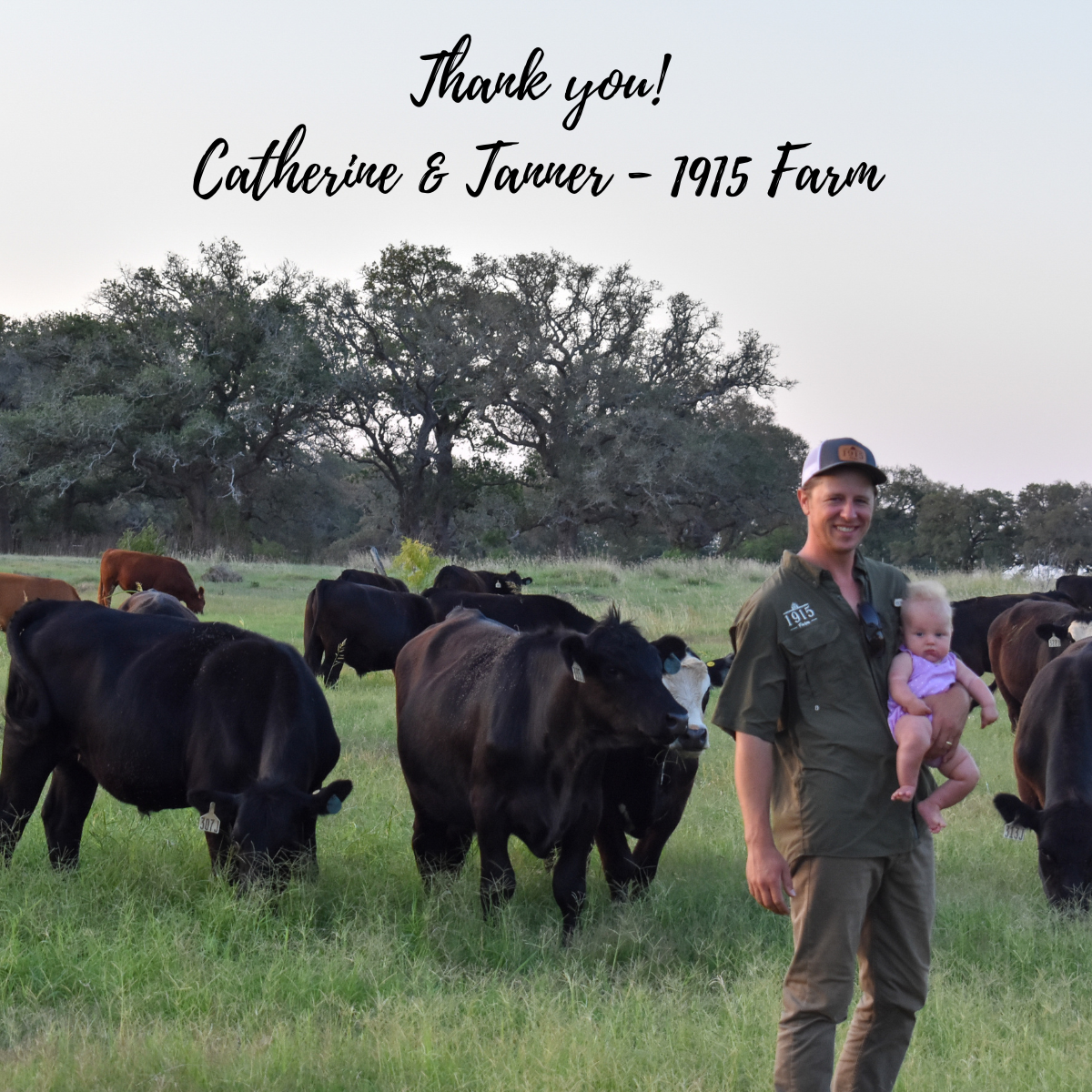 Whole & Half (Side) of Grassfed Beef - Limited Time Only!
Whole and Half Texas Raised Grassfed Beef - Limited Availability! 
.
 Taking deposits for half or whole beef ready to ship in mid August! 
Interested in a half or whole cow of grassfed beef? We have a limited number of grassfed steers we reserve sides and wholes (taking deposits now, $400) and will be ready for pick up or to be shipped anywhere in Texas and also to outside states. 
.
What to expect: 
Typically it works out to be about 50% ground, 30% roasts, 20% steaks. We use a predetermined cut sheet, based on yielding the best cuts and most bang for your buck. 
.
Example of cut sheet: 
Chuck Roasts 
Hanger Steak
Brisket
Stew meat 
Flat Iron Steak 
Ribeye steaks 
Short ribs
NY strips bone in 
Filets 
Tenderloin tips 
Sirloin steak kabobs
Rump roasts 
Pikes Peak Roast 
Ossobuco 
Skirt steak (fajita) 
Flank steak 
Oxtail (if whole is ordered) 
tongue (if whole is ordered) 
Cheek meat
Marrow bones 
Heart
Liver
Ground Beef - 90/10 - 1 lb packages 
5 lb bag of bones (knuckles etc) 
.
Side or Half Beef (around 175 lbs) - $2,249
Whole Beef (around 350 lbs) - $4,199
.
If you break this down by price per pound, you are getting the steaks for about half (if not more) of what they cost on retail! 
.
Take a quick trip to our farm for pick up (frozen, boxed, and vacuums sealed) or we can ship for an additional fee. Want to reserve? We do require a $400 deposit up front to reserve - nonrefundable. The deposit is applied towards the total amount. 
.
Whole and half sides will be available for shipping or local pick up within a month after reserving   
.
Farm pick up is free (Meyersville, Texas) and shipping costs are broken down by state for those that prefer home delivery. Please note sides do not ship at our standard meat delivery price due to the number of boxes/liners we have to use and extra carrier charges.
.
Shipping on SIDES (as of deposit date of 8.23.22) 
Texas: $150
OK, AR, LA, MS, AL, GA, TN: $180
NM, AZ, SC, NC, FL: $500
ALL OTHER: $600
Shipping on WHOLES (as of deposit date of 8.23.22)
Texas: $250
OK, AR, LA, MS, AL, GA, TN: $300
NM, AZ, SC, NC, FL: $1,000
ALL OTHER: $1,000
.
We suggest a freezer size of 9 - 12 cubic feet for a side of beef and 16 - 21 for a whole beef. If you shy towards the bigger size, it allows for more organization for bins etc. 
.
Located in Texas and interested in picking up your whole of half beef cow from our farm? We will have it boxed and ready for you here on our farm in Meyersville. We are just a a few hours from Houston, San Antonio, Austin, and Corpus Christi. We are about four hours from the Dallas Fort Worth area. It's a beautiful drive down! We would also be happy to ship it straight to your door :) 
.
Please email 1915farm@1915farm.com if you have any additional questions!
-Catherine 
Whole & Half (Side) of Grassfed Beef - Limited Time Only!
Shipping
Fast shipping
Same week delivery order cut off time for Texas orders to be placed is Tuesday at 11 AM. Outside the state of Texas orders cut off time is Sunday at midnight.
Shipping Rates by State: 
Texas 
Grassroots Club shipping: FREE
Standard Meat Shipping  $29.99
Shirts/Non Meat Orders: $12.99
AL, AR, FL, GA, KS, LA, MO, MS, OK, TN
Grassroots Club Shipping: $14.99
Standard Meat Shipping $29.99
Shirts/Non Meat Orders: $12.99
Rest of the States
Grassroots Club shipping: $59.99
Standard Meat Shipping: $79.99
Shirts/Non Meat Orders: $12.99
Guranteed Delivery
We ship our pasture raised meats frozen with dry ice and packed in a special liner, guranteeing your meat arrives to the address provided in great condition. Once your order is on the UPS truck, an email with tracking info will be sent to you. Once it leaves our farm, it will arrive to you in 1-3 days. You do not need to be home for delivery, just make sure you place meat in freezer the same day it arrives.
Thoughtfully Packed
We take just as much pride packing and shipping our meats as we do caring for our livestock. We store and ship everything directly from our farm, packed by our small team. If at any point you have any questions, give us a call or respond to the confirmation email.
Our Meats
Grassfed Beef
"One of my favorite chapters in the 1915 story is raising grass fed beef cattle, and it's likely not the reason you think. You probably know by now, Tanner and I do not have agriculture backgrounds (safe to say pharmaceuticals is on the other side of the fence here) so clearly our grass fed beef operation isn't a "fifth generation" ranch.Tannerand I are a fresh set of eyes on a very conventional way of doing things here in Texas, so unconventional that most grass fed beef in America is actually imported from other countries. Did you know that? This imported meat can even legally be labeled "product of the USA".Tannerand I are on a mission to raise delicious grass fed & finished beef here closer to home, so we opt to source/raise stocker calves from a handful of reputable grassfed ranches to put in our grass fed beef program and graze them on grasses and forage their entire life. It's quite simple really -1915grass fed cattle graze grasses and forage (no grain), without any shortcuts (if an animal is suffering we will use an antibiotic, and then remove the animal from our meat program). Processed at a local USDA inspected facility and dry aged to further enhance flavor and tenderness producing a premium grassfed beef" - Catherine 
Pasture Raised Chicken
"There is a beautiful story tell raising chicken in a different light, very unconventional by today's standard, especially in Texas. In a way that prioritizes quality over quantity, nutrition over cheapness, craft over assembly lines, and our health as top priority. The formula is quite simple. Raise the chickens the way they were put on earth to be raised, and their meat quality will reward us – with delicious flavor and enhanced nutrition. 99% of the chicken raised in America is in dark barns, fed GMO grains, given drugs, and dipped in chlorine, and kept behind closed doors from the public eye to see. Tanner and I are the founders of 1915 Farm, and we vowed from the very beginning to only sell chicken raised the the best way possible – outdoors on fresh pasture, supplemented with corn free soy free NON GMO grain, no antibiotics, no chlorine baths, and frozen and vacuumed sealed at the peak of freshness –  sharing each step of the journey along the way as we bring the beautiful experience directly to your table, and trust me when I say, the quality won't disappoint." - Catherine 
Pasture Raised Pork
The saying "pork, the other white meat" (aka pale pink) is non-existent in our vocabulary. Our pork has unmatched flavor,dark red in color and well marbled- the type of pork high-end restaurants are after. We do this by choosing "old world" heritage breeds, and put them in an environment they were designed to be raised in, either on pasture or in the brush where they can forage on grasses, acorns, whatever their snouts find with plenty of room to move in the sunshine, and supplemented with a corn free soy free NON GMO grain. When you raise pigs the way Tanner and I do, you don't have give them growth promoting drugs like sub-therapeutic antibiotics or beta-agonists which are so commonly used today in America (and illegal in many other countries). Drugs and crammed barns are a necessity to keep the price of grocery store pork low (yes meat is a commodity.. isn't that crazy?), and that is what many people want. However at 1915, we believe with all of our heart in providing a choice to those that value flavor, your health, and animal welfare first. - Catherine